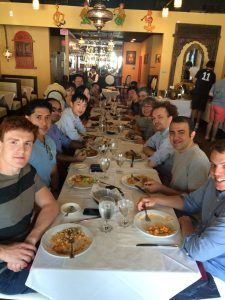 Our annual CMRL group lunch was held at Namaste, an Indian/Nepalese restaurant in Baltimore. We celebrated our recent PhD graduates in the group, Shu Guo and Jiaxi Zhang, as well as the upcoming Masters defense by Zhiren Zhu. Good luck Zhiren!
In addition, our postdoctoral fellow, Yan Azdoud, who has been in CMRL since 2014, will be leaving us this year. During his stay, his work has resulted in 2 publications. We wish you all the best Yan!
Prof. Ghosh gave a speech to acknowledge all the hard work everyone has done over the years. He wished everyone continued success and support in their future undertaking.