[accordion] [panel title="Subhendu Chakraborty"]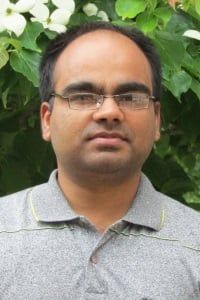 305 Latrobe Hall
Baltimore, MD 21218
e-mail: schakr17@jhu.edu
Education:
ME, Aerospace Engineering Indian Institute of Science, Bangalore, India
BE, Civil Engineering, Jadavpur University, Kolkata, India
Current Project Title:
Modeling the Evolution of Defects in Crystalline Solids Using Self-consistent Coupled
Atomistic-continuum Framework.
Papers:
J. Zhang, S. Chakraborty and S. Ghosh, "Concurrent atomistic-continuum model for developing self-consistent elastic constitutive modeling of crystalline solids with cracks", International Journal Multiscale Computational Engineering, Vol. 15, No. 2, pp. 99-119.
S. Chakraborty, J. Zhang and S. Ghosh,"Accelerated molecular dynamics simulations for characterizing plastic deformation in crystalline materials with cracks", Computational Materials Science, Vol. 121, pp. 23-36, (Editor's Choice).
Conferences:
TMS2016, 145th ANNUAL MEETING & EXHIBITION, February 14 – 18, 2016, Nashville, Tennessee.

[/panel] [panel title="Saikat Dan"]

305 Latrobe Hall
3400 N. Charles Street
Baltimore, MD 21218

e-mail: sdan3@jhu.edu

Education:

M.Tech, Structural Engineering, Indian Institute of Technology Kharagpur, 2015
B.Tech (Hons.), Civil Engineering, Indian Institute of Technology Kharagpur, 2015

Current Project Title:

Computational Modeling of Coupled Electro-Magnetic-Dynamical Systems

[/panel] [panel title="Shravan Kotha"]

305 Latrobe Hall
3400 N. Charles Street
Baltimore, MD 21218
e-mail: skotha1@jhu.edu

Education:

B.E., Civil Engineering, Osmania University, India
M.Tech., Structural Engineering, Indian Institute of Technology, Bombay, India.

Current Project Title:

Probability Based Homogenized Continuum Constitutive Damage Model for Integration into Structural Level Macroscopic Modeling

Conferences:

S. Kotha, D. Ozturk and S. Ghosh, "Probabilistic homogenization of crystal plasticity and fatigue crack nucleation models, EMI 2017: Engineering Mechanics Institute Conference, San Diego, CA, June 4-7, 2017.
S. Ghosh, S. Kotha and D. Ozturk, "Probabilistic homogenization of crystal plasticity modeling for Ti alloys", TMS 2016 144th Annual Meeting & Exhibition, Nashville, TN, February 14-18, 2016

[/panel] [panel title="Zhiye Li"]

305 Latrobe Hall
3400 N. Charles Street
Baltimore, MD 21218
e-mail: zli44@jhu.edu

Education:

B.S., South China University of Technology

Current Project Title:

High Strain Rate Modeling of Composite Microstructure Damage

Papers:

Conferences:

Z. Li, S. Baby, X. Zhang and S. Ghosh, "Multi‐Scale Modeling of Damage and Failure in S‐Glass/Epoxy Fiber Reinforced Composite Subject to High Strain Rate Impact", EMI 2016 Conference & Probabilistic Mechanics & Reliability 2016 Conference, Vanderbilt University, Nashville, TN, May 22-25, 2016.

[/panel] [panel title="Thirupathi Maloth"]

305 Latrobe Hall
3400 N. Charles Street
Baltimore, MD 21218
e-mail: tmaloth1@jhu.edu

Education:

B.Tech., Aerospace Engineering, Indian Institute of Technology, Bombay, India
M.S., Mechanical Engineering, King Abdullah University of Science and Technology, Kingdom of Saudi Arabia

Current Project Title:

Uncertainty quantification in parametrically homogenized continuum constitutive model

[/panel] [panel title="Deniz Oztürk"]

305 Latrobe Hall
3400 N. Charles Street
Baltimore, MD 21218
e-mail: dozturk1@jhu.edu

Education

MS, Physics, Bogazici University, Istanbul
BS, Civil Engineering, Bogazici University, Istanbul

Current Project Title

Adaptive Crystal Plasticity FEM modeling of thermo-mechanical fatigue in Polycrystalline Ti Alloys

Papers:

D. Oztürk, A.L. Pilchak and S. Ghosh, "Experimentally validated dwell fatigue crack nucleation model for α-Ti alloys", Scripta Materialia, Vol. 127, pp. 15-18
D. Oztürk, A. Shahba and S. Ghosh, "Crystal plasticity FE study of the effect of thermo-mechanical loading on fatigue crack nucleation in titanium alloys", Fatigue & Fracture of Engineering Materials & Structures, Vol. 39, pp. 752-769

Conferences:

D. Oztürk, S. Kotha and S. Ghosh, "Multi-Scale Modeling of Fatigue Crack Initiation in Polycrystalline Titanium Alloys", 14th US National Congress on Computational Mechanics, Montreal, Canada, June 17-20, 2017.
D. Oztürk, S. Kotha and S. Ghosh, "Crystal Plasticity FE Study of the Role of Microtexture on Dwell Fatigue Response of Titanium Alloys", ICTAM 2016: 24th International Congress of Theoretical and Applied Mechanics, Montreal, Canada, August 21-26, 2016.

[/panel] [panel title="Maxwell Pinz"]

305 Latrobe Hall
3400 N. Charles Street
Baltimore, MD 21218
e-mail: mpinz1@jhu.edu

Education

BS., Applied Mathematics and Statistics, Johns Hopkins University (2014)
BS., Chemical and Biomolecular Engineering, JOhns Hopkins UNiversity (2014)
MS., Chemical and Biomolecular Engineering, JOhns Hopkins University (2015)

Current Project Title

3D Generation of Statistically Equivalent Gamma-Gamma' Precipitates

Conferences:

M. Pinz, G. Weber and S. Ghosh, "An integrated microstructure development and crystal plasticity approach with uncertainty quantification for multi-scale constitutive model development", TMS 2017: 146th Annual Meetings and Exhibition, San Diego, CA, February 26-March 2, 2017.

[/panel] [panel title="Ahmad Shahba"]

305 Latrobe Hall
3400 N. Charles Street
Baltimore, MD 21218
e-mail: ashahba1@jhu.edu

Education:

B.Sc. in Civil Engineering, University of Tehran, Iran, 2011
M.Sc. in Mechanical Engineering, Johns Hopkins University, USA, 2016

Current Project Titles:

Developing a Unified Flow Rule For Crystal Plasticity FE Modeling of Ti Alloys for a Range of Strain-Rates

Modeling Fatigue Failure of Polycrystalline Aluminum Alloys Using Crystal Plasticity Finite Element Method

Papers:

S. Ghosh, A. Shahba, X. Tu, E.L. Huskins and B. Schuster, "Crystal plasticity FE modeling of Ti alloys for a range of strain-rates: Part II: Image based model with experimental validation",  International Journal of Plasticity, Vol. 87, pp.69-85.
A. Shahba and S. Ghosh, "Crystal plasticity FE modeling of Ti alloys for a range of strain-rates. Part I: A unified constitutive model and flow rule", International Journal of Plasticity, Vol. 87, pp. 48-68.
J. Cheng, A. Shahba, S. Ghosh, "Stabilized tetrahedral elements for crystal plasticity finite element analysis overcoming volumetric locking", Computational Mechanics, 57: 733-753, 2016.

Conferences:

A. Shahba, X. Tu and S. Ghosh, "Modeling Deformation of Polycrystalline Aggregates Across a Wide Range of Strain Rates Using a Multi-Rate Crystal Plasticity FE Model: Investigation of the Effects of Deformation Rate and Adiabatic Heating on Mechanical Response", IMECE International Mechanical Engineering Congress & Exposition, Phoenix, AZ, November 13 – 16, 2016
X. Tu, A. Shahba, S. Ghosh, Deformation and Failure Modeling of Polycrystalline Ti Alloys across a Range of Strain Rates, Engineering Mechanics Institute (EMI) and Probabilistic Mechanics & Reliability Conference, Nashville TN, May 22-25, 2016

A. Shahba, X. Tu, S. Ghosh, Towards Modeling of Failure in Polycrystalline Ti Alloys under High Rate of Deformation Using Crystal Plasticity FEM, 13th U.S. National Congress on Computational Mechanics (USNCCM13), San Diego CA, July 26-30, 2015.
A. Shahba, C. Tao, A. Pilchak, S. Ghosh, Crystal Plasticity Modeling of Single-phase Titanium Alloys, 17th U.S. National Congress on Theoretical and Applied Mechanics (USNCCM13), East Lansing MI, June 15-20, 2014.

[/panel] [panel title="Jinlei Shen"]

305 Latrobe Hall
3400 N. Charles Street
Baltimore, MD 21218
e-mail: jshen25@jhu.edu

Education:

B.S., Civil Engineering, Hefei University of Technology, Hefei, China (2011)
M.S., Civil Engineering, Hefei University of Technology, Hefei, China (2014)

Current Project Title:

Macroscopic Constitutive and Damage Models of Dwell Fatigue in Ti-64 Alloys from Microscopic Crystal Plasticity Deformation and Crack Evolution

[/panel] [panel title="Preetam Tarafder"]

305 Latrobe Hall
3400 N. Charles Street
Baltimore, MD 21218
e-mail: ptarafd1@jhu.edu

Education:

B. Technology, Civil Engineering,  Indian Institute of Technology, Kharagpur, India, 2017
M. Technology, Structural Engineering, Indian Institute of Technology, Kharagpur, India, 2017

Current Project Title:

Computational Modeling of Coupled Electro-Magnetic Dynamical Systems

[/panel] [panel title="Xiaohui Tu"]

305 Latrobe Hall
3400 N. Charles Street
Baltimore, MD 21218
e-mail: xtu3@jhu.edu

Education:

B.E., Engineering Mechanics, Wuhan University, China.

Current Project Title:

Multiscale Crystal Plasticity FEM Modeling of Deformation and Localized Failure in Polycrystalline Titanium Alloys at High Strain-Rates

[/panel] [panel title="George Weber"]

305 Latrobe Hall
3400 N. Charles Street
Baltimore, MD 21218
e-mail: gweber5@jhu.edu

Education:

B. S., Materials Science and Engineering, Drexel University, 2013
M. S., Materials Science and Engineering, Drexel University, 2013

Current Project Title:

Integrated Image-Based Multi-Scale Modeling of Yield, Creep, and Fatigue in Nickel-Based Superalloys

Awards:

Best Student Poster Award, at the 14th U. S. National Congress on Computational Mechanics (USNCCM14) in Montreal, Canada.

Book Chapters:

S. Ghosh, S. Keshavarz and G. Weber, "Computational multiscale modeling of nickel based superalloys containing gamma-gamma precipitates", Advanced Structural Materials, Vol. 57: Inelastic Behavior of Materials and Structures under Monotonic and Cyclic Loading, H. Altenbach and M. Brunig (eds), Springer, Vol. 57, pp. 67-96, 2015.

Papers:

G. Weber and S. Ghosh, "Thermo-mechanical deformation evolution in polycrystalline Ni-based superalloys by a hierarchical crystal plasticity model", Materials at High Temperature, Vol. 33, No. 4-5, pp. 401-411.
S. Ghosh, G. Weber, and S. Keshavarz, "Multiscale modeling of polycrystalline nickel-based superalloys accounting for subgrain microstructures", Mechanics Research Communications, Vol. 78, pp.34-46.
Z. Alam, D. Eastman, G. Weber, S. Ghosh and K. Hemker, "Microstructural Aspects of Fatigue Crack Initiation and Short Crack Growth in René 88DT", Proceedings of the 13th International Symposium of Superalloys, Superalloys, pp.561-568, October 2016. DOI: 10.1002/9781119075646.ch60.

Conferences:

G. Weber, A. Bagri, M. Pinz and S. Ghosh, "An Image-Based Finite Element Model for Ni-Based Superalloys using a Two Scale Constitutive Model Accounting for Morphological Distributions of Gamma Precipitates", 14th US National Congress on Computational Mechanics, Montreal, Canada, June 17-20, 2017.
G. Weber and S. Ghosh, "Multi-scale models of deformation for Ni-based Superalloys", 3rd World Congress on Integrated Computational Materials Engineering (ICME 2015), Colorado Springs, CO, May 31 – June 4, 2015.
G. Weber, C. Woodward, D. Dimiduk, and  S. Ghosh, "An image based finite element model for Ni-based Superalloys using a two scale constitutive model", TMS 2015 144th Annual Meeting & Exhibition, Orlando, FL, March 15-19, 2015
G. Weber, S. Keshavarz, and S. Ghosh, "Hierarchical crystal plasticity finite element model for Nickel-based Superalloys: Sub-Grain microstructures to polycrystalline aggregates", 17th U.S. National Congress on Theoretical & Applied Mechanics, East Lansing, MI, June 18-20, 2014.

[/panel] [panel title="Yanrong Xiao"]

305 Latrobe Hall
3400 N. Charles Street
Baltimore, MD 21218
e-mail: yxiao18@jhu.edu

Education:

Ph.D. of Civil Engineering, Aug.2017-present, Johns Hopkins University,

Master of Engineering in Civil Engineering, Sep.2014-Jun.2017, Harbin Institute of Technology, Harbin, P.R.China

 Bachelor of Engineering in Civil Engineering, Aug.2010-Jun.2014, Harbin Institute of Technology, Harbin, P.R.China

Current Project Title:

Multi-scale Damage Modeling Modeling of Composites

[/panel] [panel title="Reza Yaghmaie"]

305 Latrobe Hall
3400 N. Charles Street
Baltimore, MD 21218
e-mail: ryaghma2@jhu.edu

Education:

BS, Civil Engineering, Sharif University of Technology
Masters Degree, Earthquake Engineering, University of Tehran

Current Project Title:

Computational Modeling of Coupled Electro-Magnetic-Dynamical Systems

Awards:

Best Paper Award, ASCE-EMI Student Paper Competition in Dynamics at the Engineering Mechanics Institute (EMI) Conference, held at Vanderbilt University in Nashville, Tennessee, May 22 to May 25, 2016.

Papers:

Conferences:

R. Yaghmaie, S. Guo and S. Ghosh, "Multi‐Time Scale Coupled Transient Electro‐Magnetic and Structural Dynamics Finite Element Analysis for Antenna Simulations", EMI 2016 Conference & Probabilistic Mechanics & Reliability 2016 Conference, Vanderbilt University, Nashville, TN, May 22-25, 2016.
R. Yaghmaie, S. Guo and S. Ghosh, "Wavelet transformation induced multi-time scaling for coupled transient electro-magnetic and structural dynamics finite element analysis", 13th US National Congress on Computational Mechanics, San Diego, CA, July 27-30, 2015.
R. Yaghmaie, S. Guo and S. Ghosh, "Wavelet transformation based multi-time scaling method for coupled electro-magnetic-dynamical multifunctional systems", 17th U.S. National Congress on Theoretical & Applied Mechanics, East Lansing, MI, June 18-20, 2014.
R. Yaghmaie, S. Guo, S. Ghosh, "Simulating coupled transient electromagnetic large deformation dynamical mechanical systems using a novel multi-time scaling method", 2013 Engineering Mechanics Institute Conference of American Society of Civil Engineers, Northwestern University, Evanston, IL, August 2013.

[/panel] [panel title="Xiaofan Zhang"]

305 Latrobe Hall
3400 N. Charles Street
Baltimore, MD 21218
e-mail: xzhan109@jhu.edu

Education:

BS. Civil Engineering,  University of Macau, Macau, China.
MS. Civil Engineering, Northwestern University, Illinois, United States.

Current Project Title:

Parametric Homogenization Based Continuum Damage Mechanics (PHCDM) Model for Composites.

Conferences:

X. Zhang,  D. O'Brien and S. Ghosh. "Parametric Homogenization Based Continuum Damage Mechanics Model for Composites."  Mach Conference. Annapolis, MD. April, 2018.
X. Zhang, Z. Li, D. O'Brien and S. Ghosh. "Multi-scale Damage Modeling of Composites: Parametric Homogenization Based Continuum Damage Mechanics." American Society for Composites 31th Technical Conference. Williamsburg, Virginia. September, 2016

[/panel] [/accordion]